It's that time of year where everyone is tying up loose ends before the New Year rolls in, and with 2017 coming to an end, we want to remind businesses about Section 179 of the IRS tax code.

What Is Section 179?
In short, it allows you to deduct the full purchase price of a piece of qualifying equipment purchased during the 2017 tax year, from your gross income. Yep… you read that correctly. Awesome right?
It's one of the few initiatives the United States government has implemented to encourage and motivate American businesses to buy necessary equipment, and invest in themselves. Not only will this help build your business, but hopefully as a result, it will create more jobs for the American people. Initially it was created as a much welcomed tax relief for small businesses, but millions of businesses, varying in size, are reaping the benefits. It really is a win - win opportunity.
If you're a business owner in the U.S. I'm sure you understand how the basic concept of tax write offs work. -If you buy specific items or equipment that are applicable according to the deduction guidelines, typically you would write them off over a series of time through "depreciation".
For example, say you're looking to make a large investment on a piece of equipment that costs $100,000; you would write off $20,000 a year, for 5 years. (note* these numbers are only meant as an example)
Although you are still able to benefit from the deductions over a period of time, many business owners would prefer to deduct the entire cost in the year the purchase was made, to help offset the large financial investment.
It Gets Better…
With Section 179, not only do you have the opportunity to deduct one large item or equipment purchase, but you can deduct the cost of multiple equipment purchases made this year up to $510,000 on your 2017 tax return.
A Few Other Important Details
2017 Deduction Limit is $510,000 and is good for new and used equipment.
The equipment must be financed or purchased and put into service by the end of December 2017.
The incentive has a spending cap of $2,030,000 before the government implements a reduction of the available tax deduction, on a dollar by dollar basis, making it a genuine "small business tax incentive"
There is a Bonus Depreciation of 50% for 2017: you can find more details HERE
See below for the example used on the Section 179 website. Click on the image to go to the applicable web-page.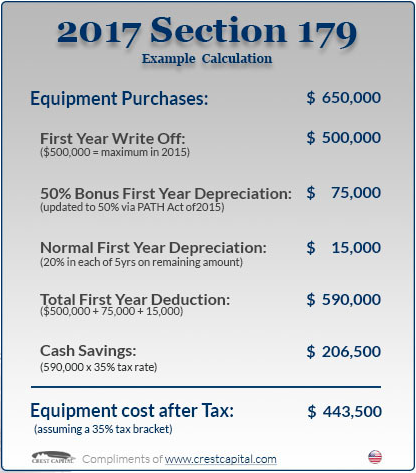 What Qualifies?
Simply click HERE or on the image below to go to the Section 179 Deduction Calculator, and input the applicable information.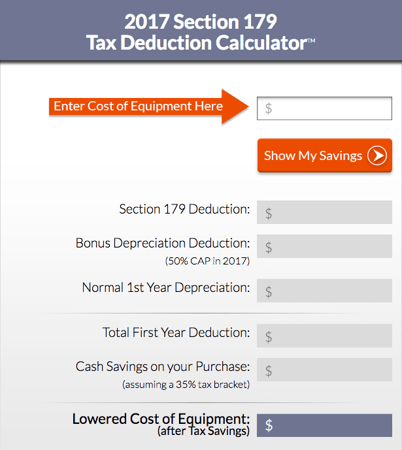 Buying before Dec 31st is incredibly beneficial! For more information on Section 179 you can visit http://www.section179.org/ where you will find everything you need to know about Section 179, as well as the appropriate contact information for any other Section 179 questions you may have.