Having the right equipment for the job is must if you want to succeed in the surface preparation industry. When every second counts you want to make sure you have equipment that is up to the task so you can get your jobs done quickly and efficiently.

The Bull Walk Behind Floor Scraper is one of those pieces of equipment that is always awesome to have on hand. For Rental Houses or Dealers, it's an investment that will stand up to tough work and will help your customers achieve their tasks effectively. When renting- the quick turnaround allows for continuous rental opportunities.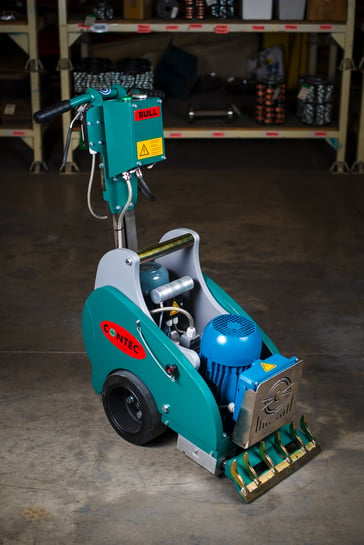 But with many Walk Behind Floor Scrapers on the market, why do we stand behind the Contec Bull? – many reasons, but I'll highlight 3 game-changers.
Easy to maneuver and good for smaller spaces
Can remove ceramic and hardwood with ease
Runs on 120V power
Easy to Maneuver and Good for Small Spaces
The unique self-propulsion can be used either manually or in automatic mode, making this piece of equipment easy to maneuver, even with all the weights being used.
This reduces the strain on the operator- especially on those more difficult removal jobs where a Ride-On Floor Scraper won't fit but a smaller walk behind won't have the power to remove the flooring.
Having a tough piece of equipment for difficult removal jobs, that you can move around in small spaces- but can also be used for easier removal jobs like VCT is an asset. The versatility of this machine makes it well worth the investment.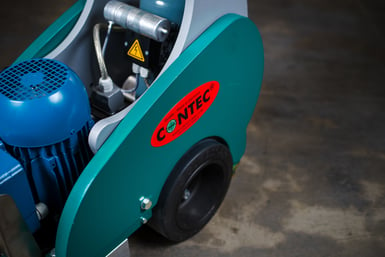 Can Remove Ceramic and Hardwood with Ease
Generally, we would recommend one of our Terminators for removal of difficult flooring such as ceramic tile or hardwood- but like previously mentioned, there are many situations where you'll need to remove that type of flooring in a space too small to accommodate a Ride-On Floor Scraper. In these situations where a smaller piece of equipment is needed, product specialists go for The Bull.
Unlike many Walk Behind Floor Scrapers on the market, this hard-working piece of equipment was designed to withstand the beatings that come with removal of more difficult coatings. The ram action is a direct drive application that makes a huge difference when removing difficult flooring with a Walk Behind Floor Scraper. It reduces strain on the opperator and adds that extra power needed to get through those tough removals.
The onboard weights are adjustable to three positions, ensuring the maximum blade down pressure needed for those difficult removals.
Because the weight is easily adjustable you can reduce the down pressure when it's not needed for easier removals, like VCT for example.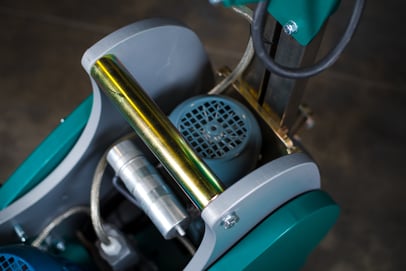 Runs on 120V Power
For such a tough machine to be able to run on 120V power is a huge benefit.
Because you will find 120V power pretty much everywhere you'll never have to worry about needing to find a greater power source or worry about dealing with transformers, or generators etc.
You'll be able to plug it in and go without sacrificing removal power and strength.
The versatility of the Bull is unmatched, and a great addition to any rental fleet or contracting business. It's an investment that has the strength and power to stand up against tough removals, and with proper maintenance, The Bull will last job after job.