Whether you're a concrete contractor, rental house or dealer, the ultimate goal is to get more customers or contracts. This can be difficult to do when there is so much competition in the market. As the construction industry continues to expand, your company is going to have to have a solid marketing strategy so that you can make sure you're out in front of potential customers as often as possible.
In this blog I'm going to go over a few keys areas that will help you identify some places to find more customers or better leverage the ones you already have.
DEVELOP A TARGET MARKET / BUYER PERSONA
This is one of the most under-rated elements involved in creating a marketing strategy that actually works. It is absolutely vital that you have a profile(s) of who you are aiming to reach whether that is simply by phone, email or an in-depth marketing plan. This will help you understand what types of services they are really looking for, and usually these are not what you think. If you can get to the true need of your customer, the conversation changes.
Creating a Target Market Profile is a very simple process that consists of answering a number of basic questions. These seek to get deeper into the mind of your potential customer because that is where you will find what they are actually looking for. Here are some questions you should think about when putting this together:
What is their job or title?
What does their organization look like? (Do they report to someone? Do people report to them)
What are the tools they need to get their job done?
What are their goals?
What are their biggest challenges?
If some of these questions seem confusing to you, think about how each one can change how you or your business views and communicates with a customer.
For example, let's pretend that we are a concrete polishing contractor. We are trying to gain more residential polishing business because we see that as a growth opportunity for the business. Let's answer some of those questions based on some educated guesses:
What is their job or title? Successful business person, good-paying job
What does their organization look like? (Do they report to someone? Do people report to them) In their home, they would be the decision makers for all renovation budgets and designs
What are the tools they need to get their job done? Contractors, rental equipment, education on their options
What are their goals? Get good quality polished floor for good price, limit job site mess, limit household disruptions
What are their biggest challenges? Finding trustworthy contractors, keeping normal house activities going during polishing, cleaning up after polishing
After going through these questions quickly, we can start to see what they are really looking for. As a business you would want to talk about how experienced you are to build trust, the dust control you use, how your machines are quiet and that you leave the house spotless once you're finished.
Instead of trying to sell just polished concrete, you will be identifying and answering the concerns of your prospects even before they ask the questions. This is the true benefits of building a specific Target Market profile.
An awesome tool for this is http://www.makemypersona.com/ by Hubspot. This is a website that asks a series of question and builds your profile for you. I would highly recommend it.
GAIN BRAND AWARENESS
I am assuming you have heard this term thrown around by marketing people many times. The basic meaning of this is developing a brand or business that people are familiar with BUT, the only people who need to know about your brand are people that can actually purchase a service or product from you. This goes right back to the need of Target Market profiles. So, how can you make your brand known without breaking the bank? Easy.
SOCIAL MEDIA
Ya I went there.
Some of you may already be on Social Media (Facebook, Twitter, Instagram, LinkedIn) and some may be avoiding it with a 10ft pole. Whether we like it or not, billions (ya I said billions) are engaging in Social Media 24/7.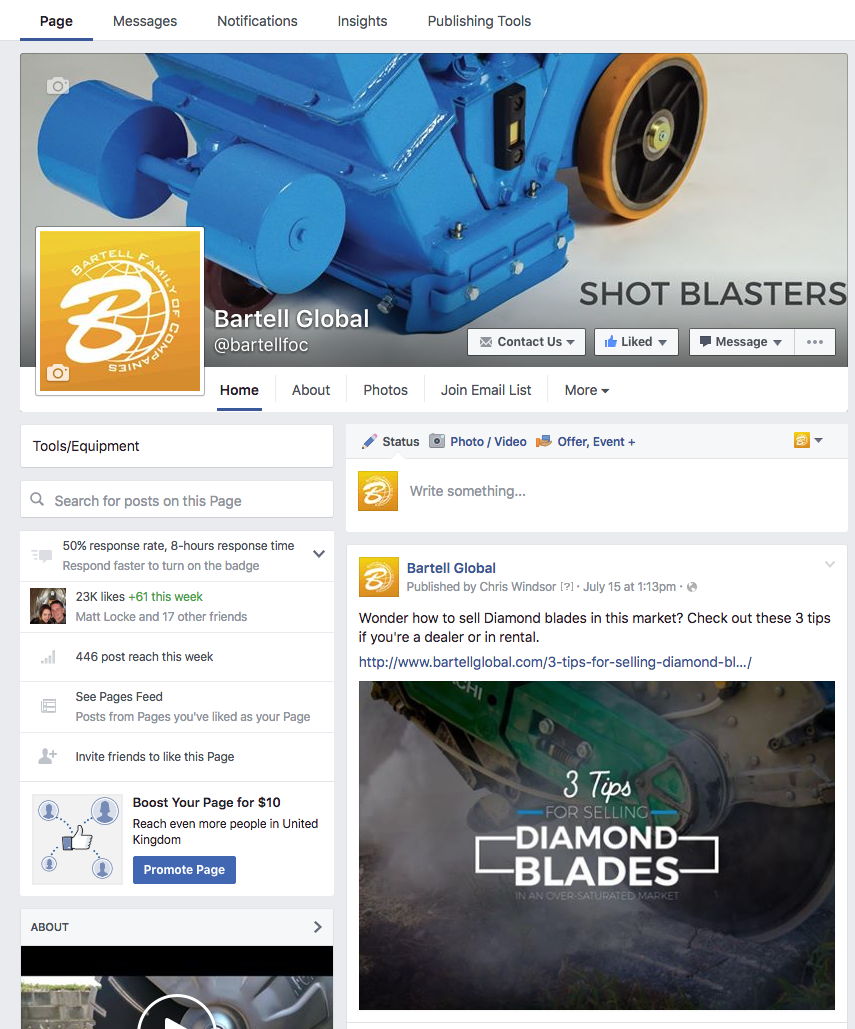 The great thing about using this for brand awareness is that it is virtually free to start out and it is a great way to get your name out in the market and on the web. Also, if you already have a website, this helps greatly from an SEO (Search engine optimization) standpoint. The main platforms to set up for your type of business would be on LinkedIn and Facebook to start.
Facebook is the largest social network out there and does very well with their business pages while LinkedIn is focused on profession profiles and companies. This is a great place to connect with other contractors, building owners and industry partners
CONCLUSION
Implementing these two aspects would be a great beginning step for marketing your business more effectively to the right people. We are going to continue posting blogs about this so that you can keep moving your business forward and gaining more business.
If you have any questions, feel free to shoot me and email and I would be happy to give you some advice on the topics we have covered.