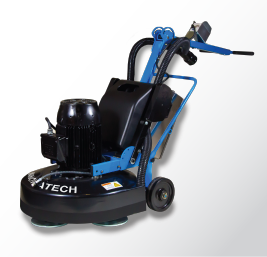 SPE found themselves in competition with a major manufacturer and supplier of specialist grinding machines for a large 16,000 sq. ft. (1500m2) project.
The application was to prepare the16,000 sq. ft. (1500m2) of power floated concrete slab to accept a high value, high build topping. The contractor was keen to compare who he thought were the main manufacturers and suppliers of specialist grinding machines.
Operating side by side the Innovatech Predator P3200 armed with the T-MAG diamond tooling system outperformed the other machines with relative ease.
With almost a third more production rate, the client chose to purchase the increasingly popular Predator grinding system. As this project was subject to significant investment and acting as a show piece for the end client, it was essential the contractor felt secure and confident in his machine choice.
SPE are always willing to help clients with the correct choice of machinery and application procedures by putting their products forward for appraisal.
SPE Sales Director Andy Nightingale commented,
"It is a very exciting time, when you have faith and confidence in your products and you see that confidence transferred to your client you know you have a winning formula."
If you're interested in getting a quote on one of our grinders or setting up a demo in person, contact us to do so.