Knowing your concrete grinder types — and what they are used for — is critical for successfully completing your grinding & polishing projects
There are many styles of concrete grinders to choose from and it can get both confusing and a little intimidating. Especially when trying to decide what design type is best for you and your projects.
This article will outline the basic types of concrete grinders on the market and address the positive (and negative) aspects of the most common machines.
MOST COMMON TYPES OF MACHINES
Single head machines.

Dual head machines.
Three headed planetary grinder/polisher.

Four headed planetary grinder/polisher.

Multi-disk non-planetary grinders.

Variable speed and reversible machines
Let's look at your options...




COMMON GRINDING /POLISHING MACHINE DESIGNS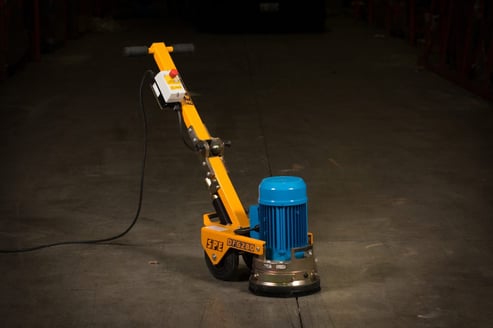 SINGLE HEAD grinders
While there are exceptions, most single head machines are small and light (around 100 - 300 lbs.)
And most will vary between 9" & 18", run on either 110 or 220 power.
WHERE WOULD YOU USE A SINGLE HEAD MACHINE?
They are great for smaller areas that bigger machines cannot access, edges and hard-to-reach areas like small rooms, bathrooms or offices or lightweight capacity floors.
These smaller machines are also really great for taking slight ridges and high spots out of a concrete slab. This eliminates the need for contractors to "float off" these ridges with a floor patching compound in order to prevent these imperfections from "telegraphing" or transferring through to the surface of the new material being installed.
These machines are cost-effective, lightweight and essential. EVERY flooring contractor should have a machine like this strapped to the inside of their van.
WHERE WOULD A SINGLE HEAD NOT BE THE BEST CHOICE?
Larger square footage projects are less suitable for a machine that has a single head, or a machine that is small and light in general. While these small machines will perform well on larger projects - the time involved (if you used a small machine only for a large area) is too great and most contractors will opt-out for a larger machine for higher productivity.
These smaller machines also wouldn't do well on floors that need grinding to a flat consistent surface, because with the smaller footprint it is difficult to get that smooth consistent cut. A larger machine like a 24" or a 32" machine will produce a much more consistently flat surface.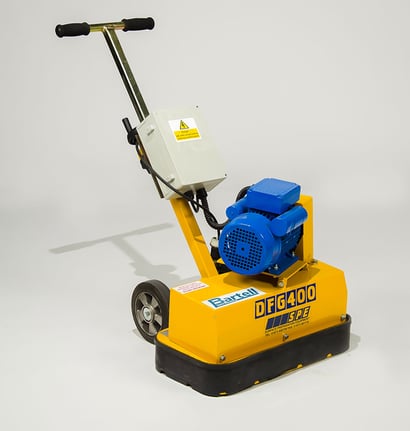 DUAL HEAD MACHINES
Dual-headed machines are great for quickly producing an aggressive CSP, (Concrete Surface Profile) - they are easy to use and cost-effective; and are a common choice for a concrete grinding machine, especially in the rental market.
A dual headed machine with the correct diamonds can produce a CSP of 2-3, maybe even a CSP of 4 (a rougher finish) on some concrete. This profile is great for most epoxies, moisture mitigation systems, and is a great "blank slate" for skim coating in preparation for sheet goods, VCT, and carpet.
WHERE WOULD A DUAL HEADED MACHINE NOT BE A GOOD CHOICE?
These machines are typically not a good choice if you are polishing concrete, as they tend to slightly gouge the surface and fail to give the very smooth, consistent surface necessary for a good polished concrete floor that a true planetary grinder delivers. As we will see below.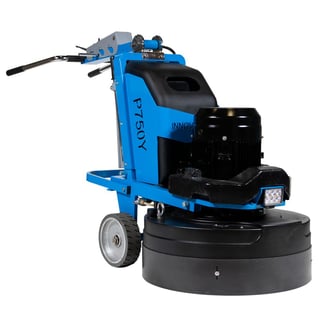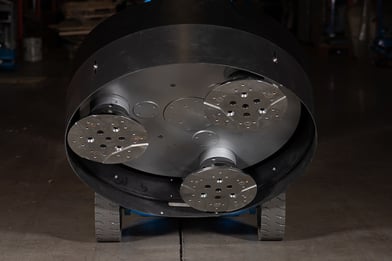 THREE-HEADED PLANETARY GRINDER/POLISHERS
Here is where we start to get into the larger, more versatile machines that not only grind the floor to the desired CSP but are effective concrete polishers as well.
These machines can be chain-driven, gear-driven, belt-driven, or even centrifugal-force-driven, depending on the manufacturer.
WHAT IS A PLANETARY GRINDER?
A three-headed planetary grinder works like this... the large drum you see in the image above operates similar to a "solar system". This drum will rotate either clockwise or counterclockwise. The three cutter heads are the "planets". With all three headed planetary grinders - all three heads will rotate in the opposite direction of the main drum/plate, providing an effective, consistent cut to the concrete. The heads working in opposite directions make for a machine that is balanced and comfortably controlled by the operator.
One difference between THREE headed machines and FOUR
As mentioned, with three-headed machines all three grinding heads rotate in the same direction. On a four-headed machine, 2 of the grinding heads rotate opposite from the other two. Think of it like this: The "North" and "South" heads will turn clockwise and the "East" and "West" heads will turn counterclockwise, resulting in a VERY smooth-running machine.
Also — a very important point — many of these machines are VARIABLE SPEED! This allows you to run these machines slower when "cutting" the concrete, producing the desired CSP - then speed up the machine when you begin to polish the concrete.
Another feature in most planetary grinders is that they are reversible, they will run either clockwise or counterclockwise. This is a nice feature for many reasons...
ONE. Sometimes diamonds will actually cut better and faster when you occasionally switch directions from clockwise to counterclockwise.
TWO. When using "directional" diamonds like a lot of PCD diamonds (PCDs are man-made, big aggressive diamonds) you must run them in the direction they are designed to be used as the image below shows. And, with a reversible machine it is easy to do.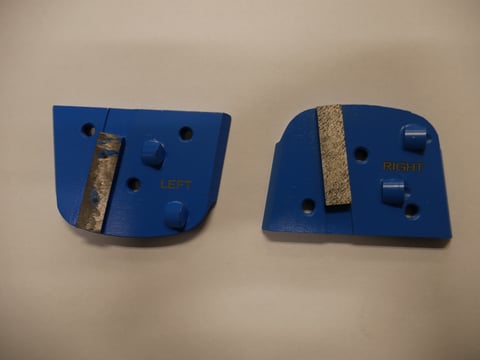 FOUR HEADED PLANETARY GRINDER/POLISHERS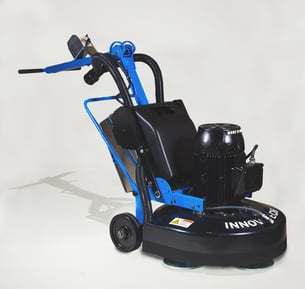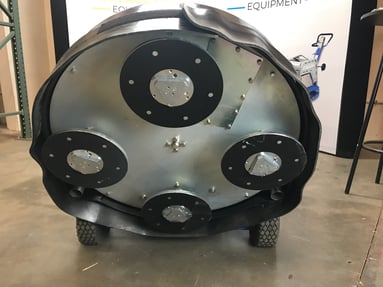 Four-headed, belt-driven planetary grinders — like the Predator grinder/polisher shown above — are considered by many to be the absolute Cadillac of concrete grinder/polishers. Why? Their effectiveness, their comfort to operate, and their utterly unrivaled ability to produce a high degree of clarity and reflection when polishing concrete.
They are (in my opinion) the best, period! This, however, is not to say that three-headed machines do not do well in this regard, they actually do very well producing a great shine and clear reflection, it's just that a four-headed machine excels at it.
SHOULD I BUY A THREE- OR FOUR-HEADED PLANETARY GRINDER?
So the next question immediately is... What's the difference between a four-headed and a 3 headed planetary grinder?
Three-headed planetary grinder PROs
Cost-effective, they cost considerably less than a four-headed machine.



Grinds faster, frankly, people argue over this one. But the common thought is that with a three-headed machine you have considerably more downward pressure on your diamonds making them cut faster.


Conversely, others will say that with a four-headed machine you have more diamonds (12) cutting the floor. So four-headed machines cut faster.




I am of the opinion as most are that, all things considered, a three-headed machine because of the greater down pressure just cuts faster.




As mentioned, three-headed machines deliver a great polished concrete surface
Three-headed machines use less tooling. So, this saves the contractor money.
Three-headed machine

Cons.
While three-headed machines are smooth-running machines, they are not as smooth as a four-headed machine.
Four-headed planetary grinder PROs.
Very smooth running machines. When running some machines all day, they can really wear you out. But four-headed machines run much smoother, lessening operator fatigue.



Clean, crisp, clear reflection and shine when polishing concrete, three-headed machines do well, but a four-headed machine excels.




Ease of maintenance — at least Bartell Global's Predator machines are! Drive belts, pulleys, bearings are readily accessible and easy to replace needing only standard tools.



Delivers a very consistent cut across the width of the machine, resulting in less overlap needed on your passes, allowing you to grind and polish with less overlap, increasing productivity.

four headed machines also produce a "flatter" floor with less very subtle "birdbaths" this is because with a four headed machine, one of the heads are always delivering more downward pressure to any subtle high spots in the concrete and these high spots are ground level with the rest of the slab.
Four-headed machine

Cons.
Cost. Four-headed machines just cost more money to manufacture and that fact is reflected in the sticker price.




Four-headed machines are not as fast at grinding as three-headed machines.
When trying to choose between these two great types of machines I'd ask these questions...
"Do you do more concrete profiling to achieve the needed CSP and less polishing?" "Are you starting out in business and the cost of equipment is a concern?"
if your answer to these questions is "yes" then a three-headed machine is probably the choice for you.
But if you answer these following questions with a "Yes"...
"Do I plan to FOCUS most of my projects on polishing versus surface preparation?"
"Will I focus on high-value / high-quality customers and finish expectations?"
"Will my workload and project types support a higher quality/priced machine?"
Then most likely a four-headed machine is the best fit for you.
POWER TROWEL POLISHERS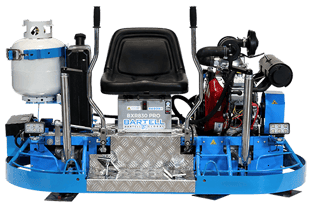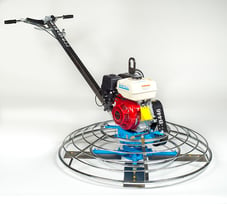 Power Trowels have been around for many years, they are used in the placement of wet concrete. But in recent years manufacturers have learned that the correct polishing diamonds attached to a float pan, makes a great polishing system with unheard-of production rates! While this system is NOT suited for some projects, where it is applicable, it is an awesome choice.
WHERE WOULD YOU USE A POWER TROWEL?
This system is a great choice for very large projects 20K sq. ft. and more. the reason for this is its very high production rates. this system is great for warehouses, production facilities and manufacturing floors.
WHERE IS THIS SYSTEM NOT APPROPRIATE?
Smaller, high-end, projects where wall and millwork finishes are already installed, as well as occupied spaces. the reason is that you must use a power trowel "WET" the floor must be flooded with water and polished using this "wet method" and this method is just not practical for these types or projects.
CLICK HERE FOR MORE INFO ON PLANETARY VS POWER TROWEL POLISHING
MULTI-HEAD NON-PLANETARY MACHINES
These machines vary in size and number of heads. It's common for this type of equipment to have between six and eight cutter heads, though there are machines with more heads and fewer. These machines have no main drum rotating, just the individual heads turn.
They are also operated differently than true planetary grinders. But with a little training, these machines can be a good option.
. Like all the other styles mentioned, this type of grinder can be a good choice... or not... depending on the manufacturer. So, be sure to do your research before purchasing one.
a few more IMPORTANT POINTS
ANY MACHINE IS ONLY AS GOOD AS ITS TOOLING
Simply put, tooling selection is just as important as machine selection. You can do all your research and buy the best machine for your projects, but if you do not understand tooling, and do not use the correct tooling — in this case mostly diamond tooling — you will be unhappy with the machine's performance.
So, do your research, educate yourself on how diamond tooling works, call your manufacturer and ask for directions from their tech-reps and trainers. Tooling and equipment manufacturers will typically have these resources available.
Here at Bartell Global, all our sales reps are very familiar with both the equipment we manufacture as well as the tooling options available for each machine. We also have a dedicated product trainer who responds to these inquiries every day. And we are by no means alone, most reputable manufacturers and distributors are more than willing to help, as we all want contractors to have a positive experience with the equipment we manufacture.
So, yes, there are a lot of types of concrete grinders to choose from. And, it can be a little intimidating. but with a little research and advice from Pros that have experience with grinders you can succeed! And choose the
EXACT, CORRECT, MACHINE.
CLICK HERE FOR MORE INFORMATION ON CORRECT DIAMOND SELECTION

tent here…