HEAD TO HEAD
A few weeks ago, we had a customer who requested a head to head comparison with our Predator grinder series vs. some of the biggest players in the planetary grinding field. This took place in the UK, and was demoed by SPE Int.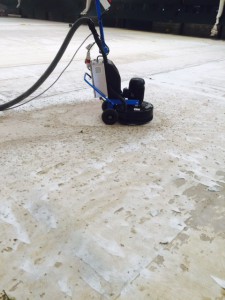 SPE found themselves in competition with other major manufacturers and suppliers of specialist grinding machines for a large 2000m2 (21,500 sq ft) project. The project was to remove a combination of heavy backing material and thick adhesive as soon as the 3 tennis court toppings had been removed from the concrete base. Planetary grinders had been specified to provide good performance while maintaining the flatness of the concrete base for the reapplying of a new sports surface. SPE demonstrated 2 machines from the Innovatech Predator range of grinders, P2400 and P3200 with a selection of diamond tooling from their TMag range.
Once trials had been completed and all evaluations had taken place, the client WH Surface Preparation Hire chose SPE and the Predator grinders. So impressed with the performance and a huge cost saving on both machines and consumables, he purchased both Predator grinders along with 2 dust control units.
If you're interested in more information, feel free to contact us and we would be happy to help you.