In continuation of our previous Vertical Shot Blasting blog we wanted to talk a bit about a specific industry that currently uses mostly open blasting but would benefit greatly from Vertical Shot Blasting; the Petrochemical industry in North America.
The "Chemical Coast" is a large section along the coast of New Jersey, and is one of the largest industrial Petrochemical hubs in the world, with many steel oil tanks and ship hauls that require blasting to maintain cleanliness and efficiency. The current common form of surface cleaning and preparation for the oil tanks along the Chemical Coast is Open Blasting. Because Vertical Shot Blasting is a fairly new form of surface preparation, compared to open blasting, it isn't as saturated in North America, but with the emergence of Vertical Shot Blasting we want to highlight the benefits it would bring to this industry.
We understand why open blasting is used, especially in big oil tanks with a large vertical surfaces to blast, but now that Vertical Shot Blasters are better refined to bring efficiency to the Petrochemical industry, there are a few reasons switching to Vertical Blasting would save contractors time and money. We want to steer people away from the single minded misconception that open blasting is the best option so more business and contractors can benefit from Vertical Shot Blasting. Not only is Vertical Shot Blasting more efficient and offers more consistent results than open blasting, it is a more cost effective and safer way of blasting, for the environment and everyone involved.
Many believe Open Blasting steel tanks is more efficient because they think getting a Vertical Shot Blaster inside the tank is more of a hassle. Sliding yourself in and out with an Open Blasting hose through the fairly small entrance of a tank may seem more efficient but, that isn't necessarily the case.
Features
Our V2 Vertical Shot Blasting Machine was created with the Petrochemical industry needs in mind. This type of Vertical Shot Blaster is designed to efficiently dismantle to fit through a 600mm (approximately 24 inches) access hole. Once inside the tank, the V2 is driven around the perimeter during the blast cleaning process, to blast clean the internal shell of oil tanks up to 2m (approximately 79 inches) from the floor. The blast clean head is mounted on a mobile framework and as one pass is completed, the blast head is raised inside the framework and the process repeated. This is the only system manufactured worldwide specifically for this purpose.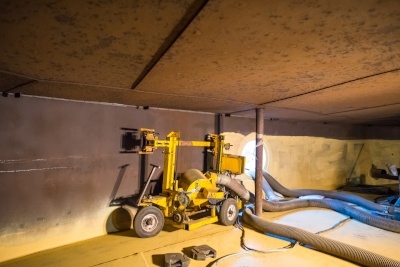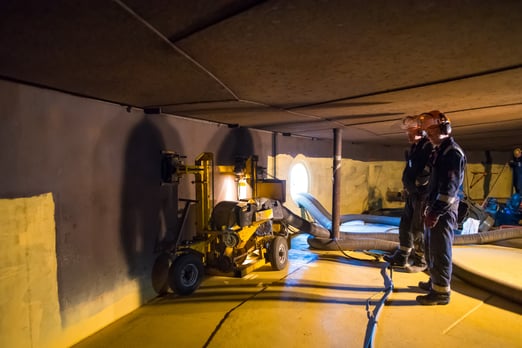 Typical Vertical Shot Blasting Machines are designed to blast clean internal and external storage tank walls by suspending them using a rigging system or crane and are operated by one person using a remote control on ground level. Magnetic roller clamp arrangements hold them to the steel surface eliminating abrasive loss and dust emission. Vertical Shot Blasters are a highly productive and environmentally safe alternative to conventional open blasting methods.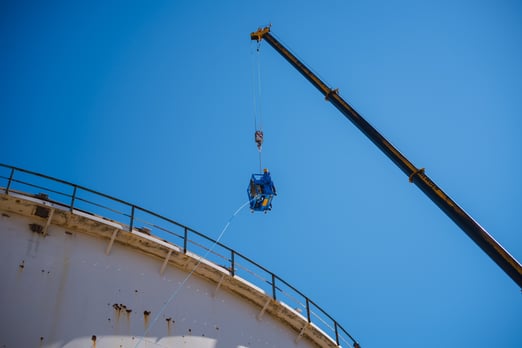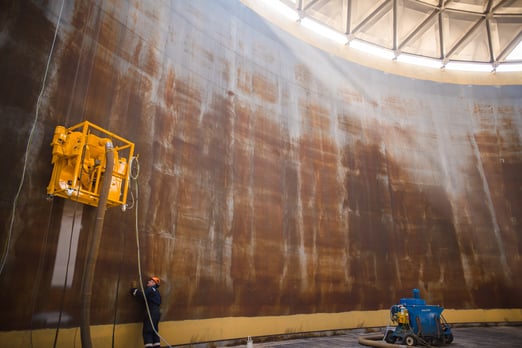 The SPE Vertical Shot Blasters are constructed of manganese steel, and have self-propelled variable speed drive which allows complete operator control, unlike the potential user error randomness of Open Blasting.
The dust free feature allows you to attach certified dust extraction equipment with HEPA filters to ensure maximum safety for the workers and the environment. This also keeps the work areas and surfaces cleaner and significantly reduces clean up time, which saves money.
Because Open Blasting relies so heavily on the user, there is more opportunity for user error to effect the efficiency and the consistency of the finish. Vertical Shot Blasting eliminates the risk of inconsistent finish by relying less on the operator for the blasting aspect. The operator simply controls the direction of the machine, up and down, and side to side, ultimately saving time and money.
Using these two Vertical Shot Blasting machines together will significantly increase production rates and finish quality. It will also save significantly decrease the amount of time needed for clean-up, while keeping your workers, and the environment safe. All these benefit will allow you to take on more jobs and save money in the process, which will transform any contracting or Blasting business.