Why Shotblasting Education month? Over the past 6 months, we have heard an increasing interest in shotblasting from customers who were very unfamiliar with it. Because shot blasting is so effective in surface prep, we saw this as a opportunity to educate you on the technology, uses, and benefits of it. With decades of experience in not only manufacturing machinery, but also surface prep contracting in Europe, we thought we would pass along our expertise.

SPE Shotblasters have led this area of the surface prep industry for decades. Approaching shotblasting from a different angle than our competitors, we've engineered machines that are both safer and more precise than other shotblasters on the market. We firmly believe that each of our shotblasters offers a unique benefit to contractors and we've highlighted a number of those characteristics below. Starting with our smaller shotblasters and working our way up, we'll examine the differences and similarities of our shotblasting range to help guide contractors towards what shotblaster might be best for them. And, of course, if you're still not sure what shotblasting is or what its applications and uses are, feel free to check out Week 1 - What is Shotblasting? and Week 2 - Applications & Uses of Shotblasting of our Shotblasting Education Month series for more information.

Convenient 110V power
Compact design allows for easy transport and maneuverability
Fully Adjustable handle for operator comfort
Easy access to shot hopper for quick refilling
Magnetic side and front seal with secondary brushes for superior shot retention
The SPE9G is best utilized for small areas, corners and edges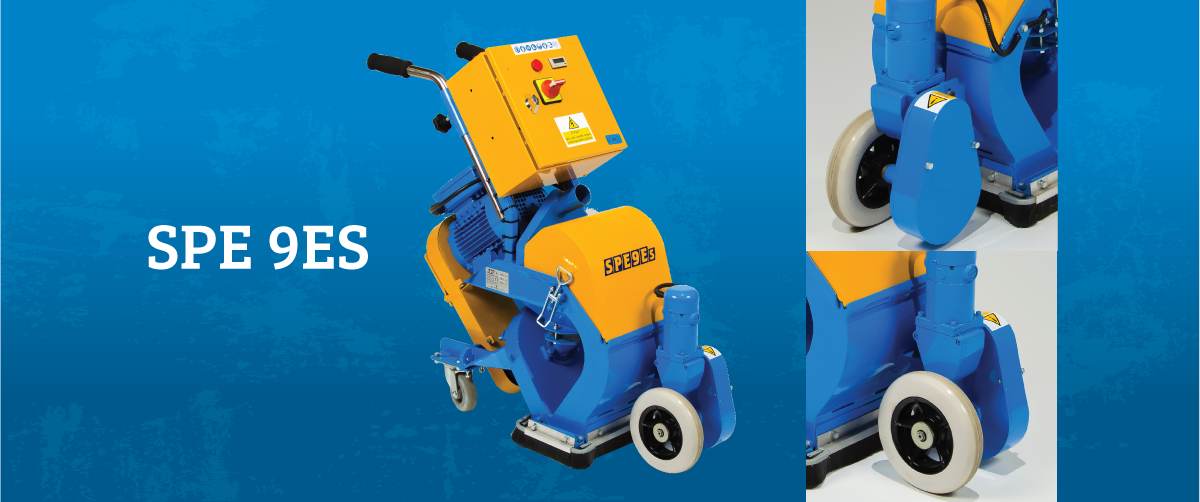 All the advantages of the SPE9G with more blasting power and self propelled feature
4HP 220V Single phase power
Self propelled electric drive
Easily adjustable Variable speed to best suit the application
Provides ability to achieve more consistent surface profiles
Quick change to "Free Wheel" mode for transportation

Operate walking forwards – have a clear view of where you are going, reduce the risk of tripping. See the surface profile without having to look over or around your machine.
Compact design allows the operator to get closer to walls and corners reducing the amount of edge work required.
Rugged hydraulic drive system
Eliminates costly custom electronic circuit boards
Zero turning radius allows for faster turn arounds
Spring loaded manganese side seals with secondary rubber skirt provides superior ability to follow the contours of the floor and significantly reduce trailing shot
Unique blast wheel design to increase cost efficiency on wearing parts
Replace the Blade Set, Impellor and Control Cage Independently
*** 16ES and 20ES *** Quickly and Easily change blast wheel rotation and control alignment to utilize the back side of the blade set (Approximately 30% more life)
Ability to disassembly to fit through a 24" access hole. This is necessary feature that allows our machines to be used inside steel storage tanks
Easy to change Blast width reducers.