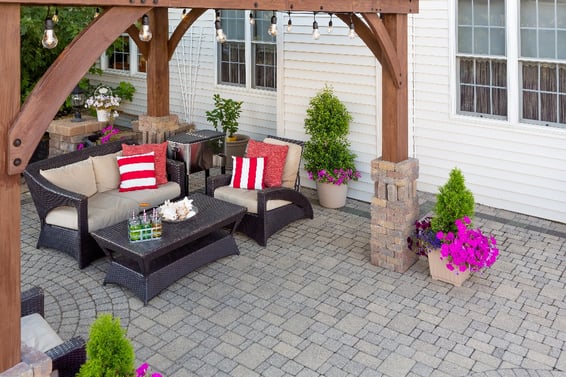 Outdoor living space has become really popular in recent years and the use of pavers as the hard, walkable surface has increased as well because of their durability, functionality, and aesthetic appeal. So, whether it is a patio, walkway, or driveway, it is important to have the correct materials, equipment and understanding of the process to achieve a successful result, a stunning hardscape project like the example above.
In this article we will cover… Materials and Equipment needed. first of all...
MATERIALS…
Pavers:



Selecting high-quality, durable pavers is crucial for a long-lasting and visually pleasing hardscape. Choose pavers made up of proven materials like concrete, brick, natural stone, or clay. These have a wide variance in appearance, so choose the finish based on your desired aesthetic and projects requirements. Next...



Base Materials:


The base is the foundation of your project, it provides stability and support for the pavers. These materials are commonly crushed stone, gravel, or sand.


Edging:

edging is manufactured from materials like concrete, plastic, and metals and are used to contain the pavers and prevent shifting over time. They enhance structural integrity of the surface as well as provide a neat and finished look to the project.


Joint sand:

Joint sand is essential for filling the gaps between pavers. It inhibits weed growth, enhances stability by providing an "Interlock" of the pavers, helps with drainage and with Polymeric sand that hardens with water, is a great choice to add additional strength, weed resistance, and Interlock qualities.


Sealant:

Applying a sealant can help protect the pavers from fading, staining, and harsh weather conditions. Always choose a sealant suitable for the type of pavers you are using, talk to a knowledgeable sales rep on this to ensure you are using the correct materials, and consult the manufacturer's directions to ensure the correct use.
EQUIPMENT AND TOOLING NEEDED:
Measuring Tools:


kinda obvious, accurate measurements are critical for a professional paver installation. So, tape measures, measuring wheels, laser measurers, are critical in determining dimensions and layout of your project.

Excavation Equipment:




All hardscape projects require site preparation.

so, depending on the size of your project, you will need excavation equipment ranging from picks, shovels, and spades to Skid steers and mini-excavators, and likely a combination of most of this equipment.


Compaction Equipment:

Compacting the base material is an essential step in the process to ensure stability. Tools like hand tampers and equipment like compaction plates help in achieving proper compaction, this gives you the best opportunity to have a solid, level, surface that will not shift or settle in the future.

CLICK HERE FOR MORE INFORMATION ON COMPACTION



Cutting tooling:

Pavers will most often need to be cut so tooling like paver splitters, wet and most recently dry saws give you the opportunity to cut pavers accurately and safely.


Leveling tooling:

Maintaining a consistent level is crucial for a professional-looking installation. So, a long straight board or laser levels help to ensure that the pavers are properly aligned, even, and MOSTLY level, in most cases a slight slope in the surface for water runoff is necessary.


Jointing, Consolidation equipment:

the interlocking of the Pavers is another critical step in the process, using brooms and brushes to move the joint sand around filling the joints then consolidating it using compaction plates… carefully on top of rubber slabs, carpet or plywood, or preferably, using the recently developed PAVER ROLLER compactor (Consolidator) to protect the paver surface from damage while vibrating the joint sand into the joints achieving the paver interlocked condition.
CLICK HERE FOR MORE INFORMATION ON A GREAT PAVER ROLLER
When it comes to hardscape paver installations, having the correct materials and equipment is essential for achieving professional results, so...
Choose high-quality pavers, base materials, and correct edging to ensure durable, stable, and long-lasting results.
Use accurate measuring equipment, excavation and compaction equipment, cutting and leveling tools, and joint brushes and consolidation equipment to create a visibly appealing and long-lasting hardscape.
Remember to follow the manufacturer's guidelines for each of the materials and equipment used.
With the correct materials, equipment, resources and attention to detail, you can create stunning hardscapes using pavers to enhance the beauty and functionality of your outdoor spaces.