If you're new to concrete grinding, I'm sure you've realized that it can be a lot more complicated that it appears. There are so many variables that can affect the final outcome so being prepared and having a few tricks up your sleeve can be incredibly beneficial.
We've compiled a short list of tips that address some of the most frequently asked questions regarding effective grinding. These tips will help you, as you continue to grow your floor grinding business.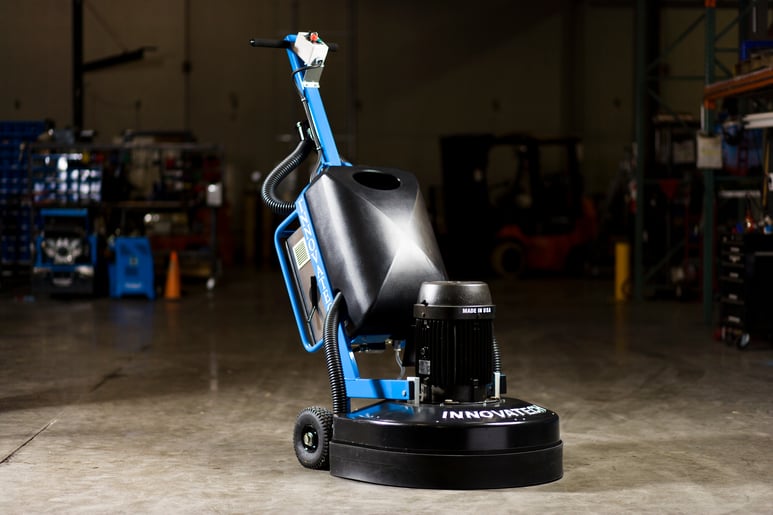 Quick Tips To Help:


First, make sure you are using the correct diamond tooling with the appropriate bond hardness, for the floor you're grinding. This can make or break the efficiency of your grinding job. Using the wrong tooling will end up in your tooling glazing over, or prematurely wearing out. You'll end up having to spend a lot more on tooling than you should, and it will take up a lot more of your time.


Throw a bit of sand onto the slab before grinding- especially if there is leftover sticky residue on the surface. The extra grit will help open the diamonds segments on your tooling and act as an additional abrasive.


If you are using a 'Multi-directional' grinder, reverse the spinning direction of your heads from time to time to re-open your diamond tooling. This will help you to get as much out of your tooling as you can. This will also help to prevent scratches and inconsistent wear patterns.

If your tooling has glazed over or become ineffective, bring it to a new part of the concrete and begin grinding to re-open the diamonds. This can be especially effective when removing adhesives or coatings. (If this fails to work- see Tip #1)


Pre-soaking the slab will help maintain a lower surface temperature of the concrete and tooling. Doing this will help to keep the diamond tools working effectively. This is especially true in hotter climates or when the slab may be subject to warm working environments.


Initially, leave your dust collector on a lower power setting so that the dust can accumulate a little under the machine. That will allow some of the particles to help open your diamond tooling. This tip can also be very useful when removing a very 'sticky' adhesive, because the dust mixes with the adhesive residue so it's not as sticky. This helps to keep your tooling cleaner and performing their best.


In some difficult grinding jobs, using other equipment along with your grinder can be very beneficial. Using a Shot Blaster or a Ride-On Floor Scraper are a great way to remove some leftover glue on the slab prior to grinding. Scraping off that excess glue beforehand will help you save time and improve the performance of your tooling and grinder. This can improve your production rates quite a bit.

Whether you've been grinding concrete for years or it's your first day on the job, there's always room to improve your skills so that when unexpected issues arise, you are prepared to deal with them effectively and efficiently.
Editor's Note: This post was originally published in Nov 2015 and has been updated for accuracy and comprehensiveness.