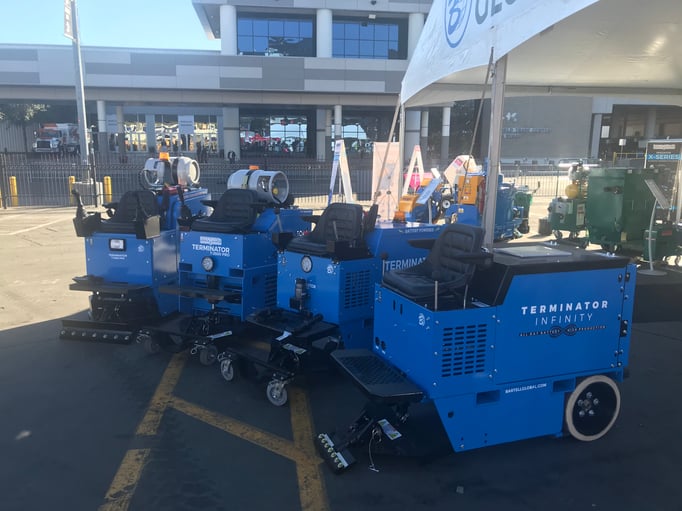 The TERMINATOR line of ride-on floor scrapers are machines that we at Bartell Global are very, VERRRY! proud of. As the originator of the ride-on floor scraper, we have been manufacturing these machines since the early 1990's.
All those years have allowed our engineers to do the research necessary to develop better and better design improvements. combined with the very valuable feedback we have received from our contractors that run the TERMINATORS everyday has resulted in the quality machines that we manufacture.
The TERMINATOR ride-on floor scrapers are the -- hands down -- undisputed -- industry leading -- highly effective and most dependable flooring removal machines on the market today.
THERE IS A CHALLENGE THOUGH, WE MANUFACTURE FIVE DISTINCTLY DIFFERENT VERSIONS IF THE TERMINATOR, SO WHICH ONE IS RIGHT FOR YOU?
Our TERMINATOR line consists of three battery powered machines and two propane machines. While all five machines do the same basic thing, remove all types of surface covering from carpet to stone and everything in between, each of our machines are designed to excel in specific circumstances.
Let's look at each of these machines individually and consider these "circumstances" like site conditions as well as individual contractor needs and see if these conditions may favor one machine over another for your specific needs. The first,
TERMINATOR INFINITY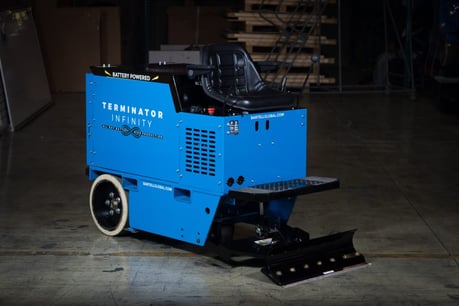 The INFINITY is probably our best-selling TERMINATOR. The reasons are many. But, here are a few. First, its power, with a 5.5 HP motor (industry standard is 4 HP) it produces over 1,500 FT LBS of torque to the drive wheels and delivers a speed of 150 FT per MIN. added to this is it's long, all-day run time of 8 – 12 hours as well as its easy to use controls and couple all this with its cost effective pricing makes the INFINITY a great option.
CLICK HERE FOR A FULL LIST OF FEATURES OF THE INFINITY
Who would likely benefit the most from choosing the INFINITY?
First time machine owners as well as contractors with multiple machines and multiple operators. And the INFINITY is a really great choice for equipment rental houses as well because it is so simple to operate. also, the INFINITY is a great choice for contractors working in occupied spaces and medical facilities because the INFINITY is powered by zero-emissions, maintenance-free batteries and is a very quiet machine to operate.
The INFINITY excels at removal of materials like carpet, VCT, sheet flooring of all types. It will even remove really hard to remove materials like ceramic tiles and hardwood flooring.
Who might benefit more by considering a different TERMINATOR than the INFINITY?
Well, Contractors that MOSTLY remove hard to remove materials like hardwood, stone, cementitious toppings, pool decking, parking garage membranes, really challenging materials like these. The reason is, while the INFINITY does a good job on these materials we have other options with even more power than the 5.5 HP motor and these TERMINATORS excel at removing these materials.
Who else might benefit from considering a different TERMINATOR? Contractors that control their environment. Like abatement contractors, demolition contractors and a lot of commercial general contractors. Why? Because contractors like these are in control of their environment. when you are in control of the environment you are working in you can oftentimes have the option of operating a propane powered machine. These are generally more powerful machines. And, they do not need to be charged like a battery powered machine so they can run continuously, 24/7 making a propane powered machine fit their needs better. --NEXT---
TERMINATOR T-3000EI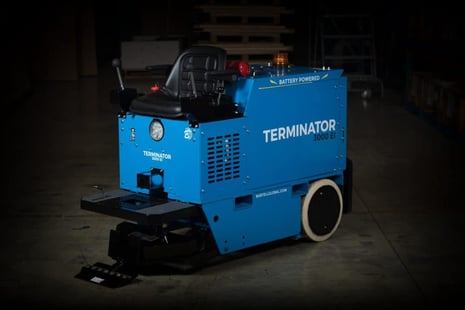 the T-3000EI is the beast of a big brother to the INFINITY! It is manufactured on the same platform as the INFINITY, but, the T-3000EI boast a powerful 10 HP motor, the most powerful battery powered machine in the industry. Producing well over 1,700FT LBS of torque to its drive wheels, giving it the power to plow through any material with ease.
This machine has a top speed of 200 FT per MIN and what is more important than that is, it not only goes as fast as you want to go, but, and this is a really important, it goes as slow as you need to go! The T-3000EI is a true variable speed machine. Why is this important? Because with variable speed you are able to "creep" through tight areas without damaging walls, doorjambs and related objects, you are able to creep up to the wall and remove all the material with the machine and not by hand.
Another reason the T-3000EI is so aggressive is its weight, 2,763 LBS and you have the option to add additional weight to the machine making it even more aggressive. Or, you can remove weight from the machine to better access lighter rated floors and elevators as well.
CLICK HERE FOR A FULL LIST OF FEATURES OF THE T-3000EI
Who is the T-3000EI a great fit for?
The contractor that does mostly hard to remove materials as the T-3000EI has the weight and power to easily get these jobs done. Also, contractors that work in occupied space and medical facilities choose the T-3000EI because it is powered by zero-emissions, maintenance-free batteries. And the T-3000EI is a very quiet machine to operate.. Another contractor this machine is perfect for is the contractor that has only one machine. The reason is that it is the perfect "all around machine" it can go anywhere and just removes everything.
Who might benefit from different TERMINATOR?
To be candid, it is hard for me to find a downside to my favorite battery powered machine. But, if a really long runtime is important then maybe the INFINITY with its 8 – 12 hours is more attractive than the approximate runtime of the T-3000EI's 7 hours, the shorter runtime is because you are running a more powerful machine that depletes the batteries faster.
As mentioned earlier, if you're a contractor that can use a propane machine. That might be an option to consider as well. because of not needing to charge machine.
If you are an equipment rental house or a contractor that runs a fleet of machines with multiple operators the INFINITY might be more attractive because it is foolproof, you almost can't operate it incorrectly and the INFINITY has onboard chargers that rental houses love.
TERMINATOR T-3000XME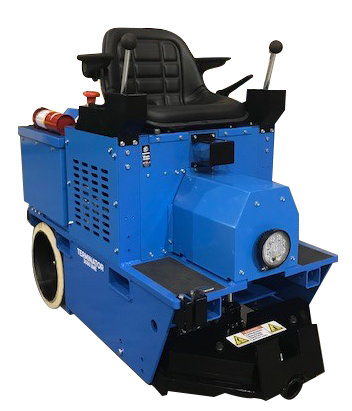 The bull in a china closet!
That is how I think of the T-3000XME. The reason is this, it is our smallest Terminator, at only 55" long and our lightest TERMINATOR at only 1,850 lbs so, it can access the smallest areas, the lightest rated elevators, the lightest rated floors and it is the easiest machine to mobilize.
But, the XME is a little BEAST! with many of the same features of it's biggest brother the T-3000EI like the powerful 10HP motor and the same operating platform and controls that provides a true variable speed machine that is so critical for maneuverability in tight areas.
This TERMINATOR was designed to fit needs of a certain market, that market is Europe and Asia. The reason is because in those parts of the world there are a lot of really small areas that you just cannot get a full sized machine on the site. but contractors still needed a machine with the power to remove challenging floors like ceramic tile and hardwoods. And that's what the T-3000XME does. In addition to contractors in other parts of the world we have found that for certain contractors in our part of the world the T-3000XME can be a great choice for them as well. Who are these contractors?
CLICK HERE FOR A FULL LIST OF FEATURES OF THE T-3000XME
Who is the T-3000XME a great fit for?
First, as mentioned, contractors in Asia and Europe. Also, the XME can be a great choice for contractors that have smaller commercial projects as well as contractors removing material in residential locations that need a machine with a smaller footprint but still have the power needed for hard material removals. Contractors that must use light duty elevators, lighter capacity floors and tight areas benefit from the XME as well.
Who might benefit from different TERMINATOR?
Contractors that do large square foot projects would probably benefit from either a propane powered machine or a battery powered machine with a longer runtime. Also, contractors that do a lot of hard to remove materials and can use the bigger, heavier versions of the TERMINATOR.
The reason is this, with the XME the potential downside is the machine's runtime of 2 ½ - 3 ½ hours on a set of batteries. But, before you dismiss the XME because of runtime HEARE ME OUT . The challenge is that There is a serious tradeoff when developing and manufacturing a TERMINATOR that has both a small footprint and a very powerful motor and that challenge is battery capacity. You can only get so much battery capacity in the XME's small footprint seems like a problem. But, check out the unique way we have successfully addressed this challenge.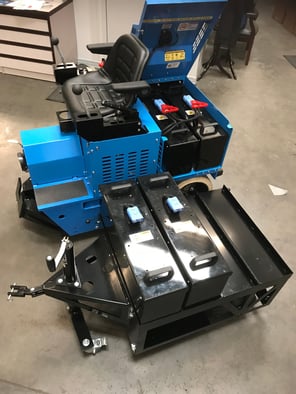 The idea is this, Just like your cordless drill has a quick change battery system, the XME has a quick change battery system that allows one person to quickly change out the depleted pack with a fresh one using no tools or lifting assistance. and takes about a minute to accomplish. To make this a seamless procedure, we manufacture the battery cart shown in the image. So, because of the ability to quickly change battery packs and a very short charge time, for many contractors the limited runtime is not an issue. Making the T-3000XME a great option
CLICK HERE TO SEE A QUICK VIDEO OF SWAPPING OUT THE BATTERIES
These three machines are our battery powered TERMINATORS. Next lets consider the Propane powered TERMINATORS.
TERMINATOR T-2500PRO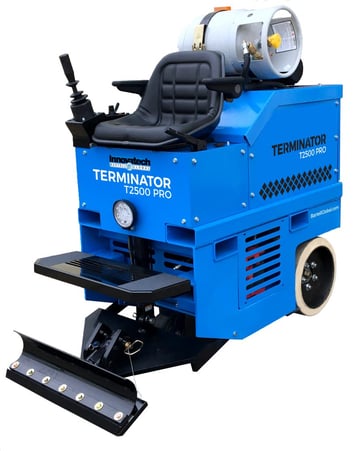 The Terminator T-2500PRO is our latest member of the Terminator family. With many of the same options as our other Terminators like variable speed, component and operator safety panels and floor rest, wheel scrapers (all Terminators have them), three-point adjustable receiver, easy lift points to name a few. But, the T-2500PRO is unique in a very specific way, it has a single joystick for operation where all other Terminators have two control handles. This is completely unique in the Terminator line! Why did we do it? Because we listen to the feedback form contractors. And. Quite a few said they would like that option. This unique design feature has been well received by contractors.
The T-2500PRO boast a powerful 25 HP engine makes for not only a lot of power but a very fast machine at 300 Ft per Min. what is really great about this machine is the removable weights, the machine weighs 1,930 stock with 315 lbs. removable weight that brings the machine down to only 1,615 so it can access light duty elevators and floors.
CLICK HERE FOR A FULL LIST OF FEATURES OF THE T-2500PRO
Who is the T-2500PRO a great fit for?
Contractors that control their environment and can use propane, contractors that need continues runtime, contractor looking for a cost effective machine that still has the ability to remove not only the VCT's and carpets on jobsites but the very hard to remove materials as well. Also, the T-2500PRO is a favorite of the equipment rental houses.
Who might benefit from another Terminator?
Contractor that work in occupied spaces and medical facilities as propane powered machines most likely not be allowed. Contractors that do MOSTLY very hard to remove material. The reason is, while the T-2500PRO works well on these hard to remove floors, the big brother to this machine EXCELS at removing the absolute hardest materials to remove. Let's talk about that one!
The TERMINATOR T-5500PRO, Flooring's Worst Enemy!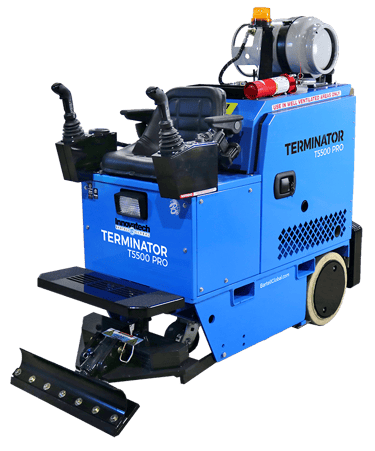 Where do you start with this machine! It is the absolute most capable machine in it's class hands down! Why? To start with, it has all the features of the other Terminators but add to those features, it's completely unique to the industry powerplant!
That is a 55HP KABOTA MOTOR! No other manufacturer comes even close to the power in the T-5500PRO! When you combine its power with the weight of the machine at 2,943 lbs. and the ability to add another 800 lbs. if needed, a completely variable speed of 0 – 375 Ft per Min and a wheel torque at the drive-wheels of almost 1,800 ft lbs. You end up with the most aggressive ride-on floor-scraper in its class in the industry!
When you add all the other stuff like complete controls on the joysticks, complete engine readouts on the controls, LED lights, seatbelt, safety lock off switches, backup alarms and amber warning light. oh, and removable weights, you can remove 870 lbs. taking the machine down to only 2,073 lbs. for the lighter floors and elevators.
These features and more make it the clear choice for the hardest of removal projects.
CLICK HERE FOR A FULL LIST OF FEATURES OF THE T-5500PRO
Who would benefit from the T-5500PRO?
Contractors that control their environment and can use propane, contractors that remove a lot of very hard to remove materials, as well as contractors that need a continues run-time, also, contractors throughout the world that have varied power configurations and don't like battery charging options really like propane powered equipment because propane is just propane no matter where you are.
Here is an interesting fact, who else will like this machine option? Contractors that want the easiest to operate machine, it seems like it would not be true but the T-5500PRO is the easiest Terminator or any other ride-on floor-scraper to operate.
Who might benefit from a different Terminator
Contractors that work in occupied spaces as well as medical facilities would want to look at battery powered machines. Contractors that do mainly carpet, VCT, SV and the like as there are more cost-effective machines to accomplish it.
Contractors that are budget conscious, The Terminator T-5500PRO is our most highly engineered TERMINATOR and is, frankly, composed of very expensive components like the 55HP Kubota engine. But, it's these costly components that make it our most capable Ride-on scraper that we manufacture. And, it just shows in its list price. But, when you need to remove 2x6 teak decking on a cruise ship, or, equally challenging flooring where only the most aggressive machine will do, what other choice do you have? The Terminator T-5500PRO will get the job done! Period!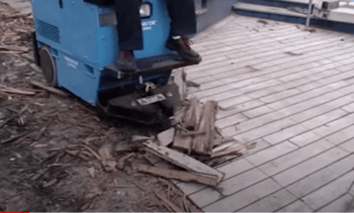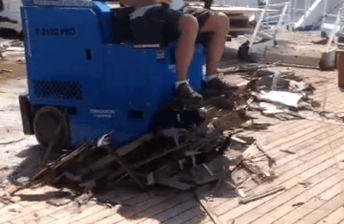 So, those are the five different Terminators we manufacture here at Bartell Global, which one is right for you? I hope this discussion of what machine is right for you helped. Because buying a Terminator is a big decision and the correct Terminator is so important! If you still have questions on what machine best fits your needs, please contact us at Bartell Global and let one of our scraper experts direct you to the exact, correct machine.
FOR MORE INFORMATION ON RELATED SUBJECTS CLICK HERE