Vertical Shot Blasters are a very unique piece of equipment that not everyone has had the opportunity to see in action.
They have a similar basic concept as walk behind shot blasters when it comes to how they work. Various sized steel shot is flung at high velocity to remove rust, mil scale, paint, coatings and contaminants etc. from the steel surface its blasting. The debris is then vacuumed away through a dust extraction system and the usable shot is re-entered into the blasting process.
Vertical Shot Blasters are used for blasting vertical surfaces such as walls of industrial oil tanks or ship hulls, in a vertical or horizontal direction.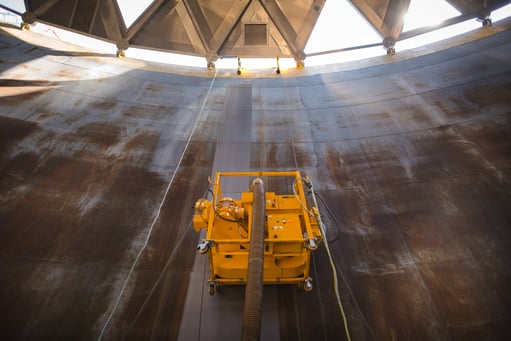 Bartell Global offers 2 variations that cover all aspects vertical blasting. Our SPE V2 Series Autoblast model is unique in its horizontal blasting ability.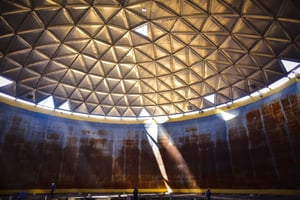 1) SPE V2 Series Autoblast Vertical Shot Blasters
Designed to blast clean the internal shell of oil tanks up to 2m from the floor.
The blast head is mounted on a mobile framework and the V2 is driven around the perimeter of the tank during the blast cleaning process.
As one pass is completed, the blast head is raised inside the framework and the process repeated.
The machine can be dismantled and passed through a 23.5" manhole access.
This is the only system manufactured worldwide specifically for this purpose.

2) SPE V3 Series Autoblast Vertical Shot Blasters.
Designed to blast clean internal walls on floating roof tanks and external walls on storage tanks.
The unit is suspended by a rigging system or crane and can be operated by one person using a remote control on ground level.
A high powered magnetic roller clamp arrangement holds the V3 to the steel surface eliminating abrasive loss and dust emission.
The V3 offers a highly productive and environmentally safe alternative to conventional open blasting methods.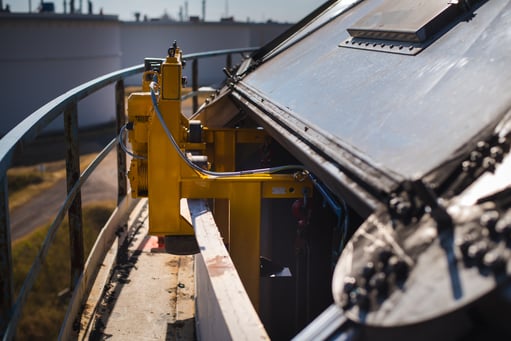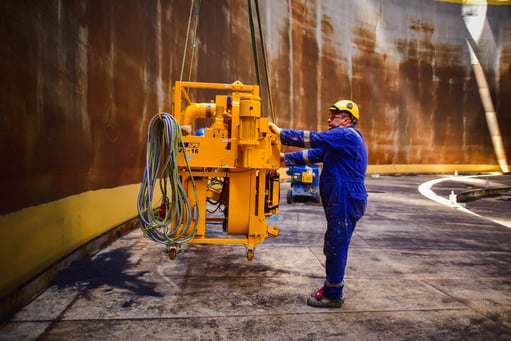 Though Vertical Shot Blasters are very efficient there are a few things to consider refining to ensure top efficiency and maximum production rates.
Some of the external factors that can affect productions rates and efficiency are:
The variations in the material being removed. – The thickness and toughness or amount of contaminants will affect the efficiency and production rates.
Efficiency of crew and operator.
The require cleanliness specifications for the job or requirements for any paint or coating that will be applied after the blasting.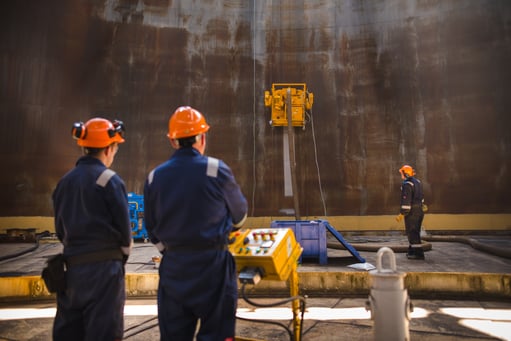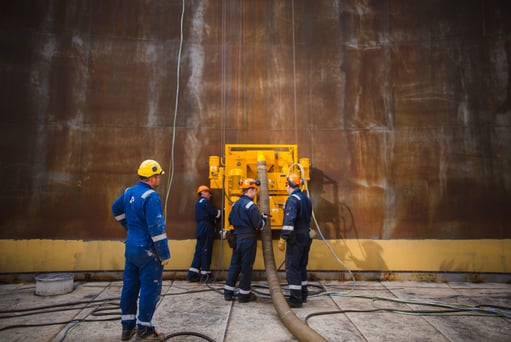 With the right training, equipment, and operating team, big jobs are done quickly and efficiently. Click Here to see one in action.